Government updates and plans for business finance support
We have gathered the latest information about the government strategies that will support UK businesses in the face of Covid-19. This page is designed to keep our clients up to date as things continue to evolve.
For now, you could be assessing your current finances. See our guide to cashflow management in a market downturn.
Our plan of action
At CBHC the health of our Staff and clients is our priority.
In line with Government Guidelines, we have set up to work remotely. Our staff remain contactable and are working on our client's affairs as usual. We will respond to queries as soon as possible and hope that in the meantime you find the information below of use.
The Chancellor has set out a package of tailored schemes and measures to help support UK businesses where Covid-19 is causing serious financial concern.
A Coronavirus Job Retention Scheme or 'Furlough'
The deadline for any employee to be furloughed for the first time was June 10, with the scheme set to terminate altogether on October 31. From August, employers must pay National Insurance and pension contributions, then 10% of pay from September, rising to 20% in October. See breakdown from HM Treasury below.
Now is the time for employers to look at ways to bring staff back in a way that does not negatively effect their finances.
Schemes like 'flexible furlough' and the Job Retention Bonus may alleviate the financial pressures without making redundancies.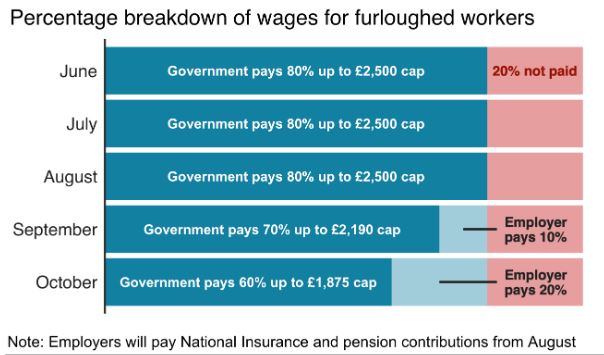 What is Flexible Furlough: Employers will be able to bring any furloughed employees back to work for any amount of days/hours, with the ability to continue claiming for any hours not worked. When making a claim, employers will need to report and claim for time worked within a minimum period of a week.
Job Retention Bonus: Job Retention Bonus is a one-off payment to employers of £1,000 for every employee who they previously claimed for under the scheme.
The catch is that this money will not be paid yet. Employers will be able to claim the Job Retention Bonus after they have filed PAYE for January and payments will be made to employers from February 2021. The employees in question must remain continuously employed through to 31 January 2021. They must also earn at least £520 a month on average between the 1 November 2020 and 31 January 2021.
The Kick-start Scheme: The government plans to introduce a scheme whereby hundreds of thousands of  6-month work placements will be government funded. It aims at age 16-24 year olds who are on Universal Credit and are deemed to be at risk of long-term unemployment.
The funding will cover 100% of the National Minimum Wage for the job in question, 25 hours a week, plus the any employer National Insurance contributions and employer minimum automatic enrolment contributions.
Self-Employed Income Support Scheme (SEISS).
Similar to the Job Retention Scheme, this scheme will see the self-employed receive up to £2,500 per month in grants to cover at least 3 months.
Self-employed people who are eligible for the new scheme will be able to apply directly to HMRC for the taxable grant from May 13th. Only those who are already in self-employment will be eligible to apply.
Those eligible will receive a cash grant worth 80% of their average monthly trading profit over the last three years, paid directly into people's bank account within 6 working days.
To be eligible, you must have a trading profit of less than £50,000 for 2018-19 or an average trading profit of less than £50,000 from 2016-17, 2017-18 and 2018-19. This is also what the government will use to determine the size of the grant.
The majority of income in these periods must have come from self-employment.
Individuals are advised not to contact HMRC. HMRC have begun contacting those they have deemed as eligible to apply. Any texts, calls or emails that appear to be from HMRC, and provide a link for you to provide credit card or bank details, is a scam.
The information required for the online application includes:
Self Assessment UTR – also needed for the online tool to check eligibility
National Insurance number – also needed for the online tool to check eligibility
Government Gateway user ID and password
Bank account number and sort code
A Tax Holiday
For the next 3 months, the government will be deferring Value Added Tax (VAT) taking us up to 20th June 2020. For the self-employed, any Income Tax which was meant to be paid this July, has also been deferred to January 2021.This scheme will be automatically applied and business will not need to do anything to access it.
Support for businesses paying tax: Time to Pay service
HMRC's Time to Pay Service is designed for any businesses or self-employed people who are in financial distress due to outstanding tax liabilities.To access this scheme, call HMRC's dedicated helpline: 0800 0159 559.
For enquiries regarding future payments, HMRC have advised that you call nearer the time.
A Business Interruption Loan Scheme
In place from 23 March 2020, this scheme is being delivered by the British Business Bank for small and medium sized businesses. The Scheme will support bank lendings up to a value of £5 million for UK businesses with a turnover no greater than £45 million per annum.The government is reassuring lenders with an 80% guarantee on loans, not to be charged to banks or businesses.
Support for larger businesses
The Covid-19 Corporate Financing Facility has been introduced by the Bank of England to buy short term debt from large companies leaving you room to sort out short term liabilities.
Sick Pay
New legislation has been put in place so that small-medium sized businesses can reclaim Statutory Sick Pay (SSP) paid to employees for absences caused by Covid-19. Here are the conditions set for this scheme:
This refund will cover up to 2 weeks' SSP per eligible employee who has been off work because of COVID-19 because they:
have coronavirus
are self-isolating and unable to work from home
are shielding because they've been advised that they're at high risk of severe illness from coronavirus
To be eligible, an employer must:
Have fewer than 250 employees on 28 February 2020
Have had a PAYE payroll scheme in operation before 28 February 2020
Be eligible to receive State Aid under the EU Commission Temporary Framework
The repayments will cover up to 2 weeks starting from the first day of sickness.
Employees will not need to provide a GP fit note but they must maintain records including:
reason why an employee could not work
start and end dates of each sickness period for an employee
details of the SSP qualifying days when an employee could not work
National Insurance numbers of all employees who you have paid SSP to
You'll have to keep these records for at least 3 years following your claim.
Business rates holiday for retail, hospitality and leisure businesses
The 2020 to 2021 tax year will include a business rate holiday for retail, hospitality and leisure businesses.Businesses that received the retail discount in the 2019 to 2020 tax year will be re-billed by their local authority as soon as possible.
Properties that will benefit from the relief will be occupied hereditaments that are wholly or mainly being used:
as shops, restaurants, cafes, drinking establishments, cinemas and live music venues
for assembly and leisure.
as hotels, guest & boarding premises and self-catering accommodation
Small Business Grant Scheme
This scheme has been put in place so that local authorities can support small businesses that already pay little or no business rates because of small business rate relief (SBBR), rural rate relief (RRR) and tapered relief. This will provide a one-off grant of £10,000 – 25,000 to eligible businesses to help meet their ongoing business costs.
Find and contact your local authority  for enquiries about the Small Business Grant scheme and Retail and Hospitality Grant scheme.
IR35
Have now been deferred by a year until April 2021.
HMRC Helpline
Have you missed a tax payment or do you think you might miss your next payment due to COVID-19? For more advice. call HMRC's dedicated helpline: 0800 0159 559.